The Minnesota Porcelain Art Guild hosts special events throughout the year. Scroll down and see what's coming!
---
Halloween Party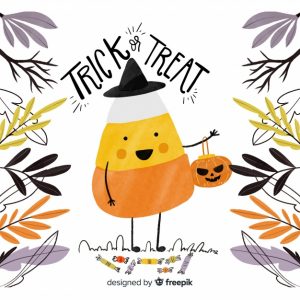 Friday, October 18, 2019
9:30 a.m. to 2:00 p.m.
Midland Hills Country Club
2001 Fulham Street
Roseville, Minnesota 55113
Sponsored by the MPAG Education Committee, this special event will begin with a shortened version of our regularly scheduled business meeting (note the date change from our regular schedule), followed by multiple demonstrations, followed by a delicious lunch.
Here is how it will work.
Demos in the Round
Five demonstrations will be presented simultaneously, and we all get to go to each one! Learn Scrolling & Violet Vines, Fireworks, String Pulling, Gold Flecking, and "All Cracked Up."
Trick or Treating
Receive Halloween treats from all five artists.
Drawings
Please bring a fall-inspired painted porcelain piece
and/or
Wear a creative Halloween-Inspired hat.
Those participating will be entered in a drawing for great prizes!
Lunch
A delicious lunch, prepared by the Midland Hills Country Club chef, will be served at 1:00. Enjoy the food — and one another!
Cost: This event, including lunch, costs $35.00 for members, $45.00 for non-members. (Members who are on the permanent reservation list need not make a special reservation for this event; but if you can't make it, you must cancel your reservation for that day.)
Reservations: Required by Friday, October 11, 2019.
Contact Barbie at 952-240-6227 or barbiedoll6kids@gmail.com
This will be a really fun day. Everyone is welcome. Please join us!
---
2019 Holiday Luncheon
December, 2019
Details Coming Soon!
Oh my, did we have fun in 2018!
If you were there, you know!
If you weren't there, you missed a great party —
and we missed you.
Hope to see you at the next Holiday Luncheon in 2019.
---

Founders' Day Activities and Spring Luncheon
Friday, May 22, 2020 • 9:00 a.m. to 2:00 p.m.
Midland Hills Country Club
2001 Fulham Street • Roseville, Minnesota 55113
This annual spring event typically includes demonstrations, painting competitions, auctions, drawings, door prizes, and of course, lunch! Plan to join us for the great fun of good fellowship with like-minded artists. Be sure to check back for details!
---